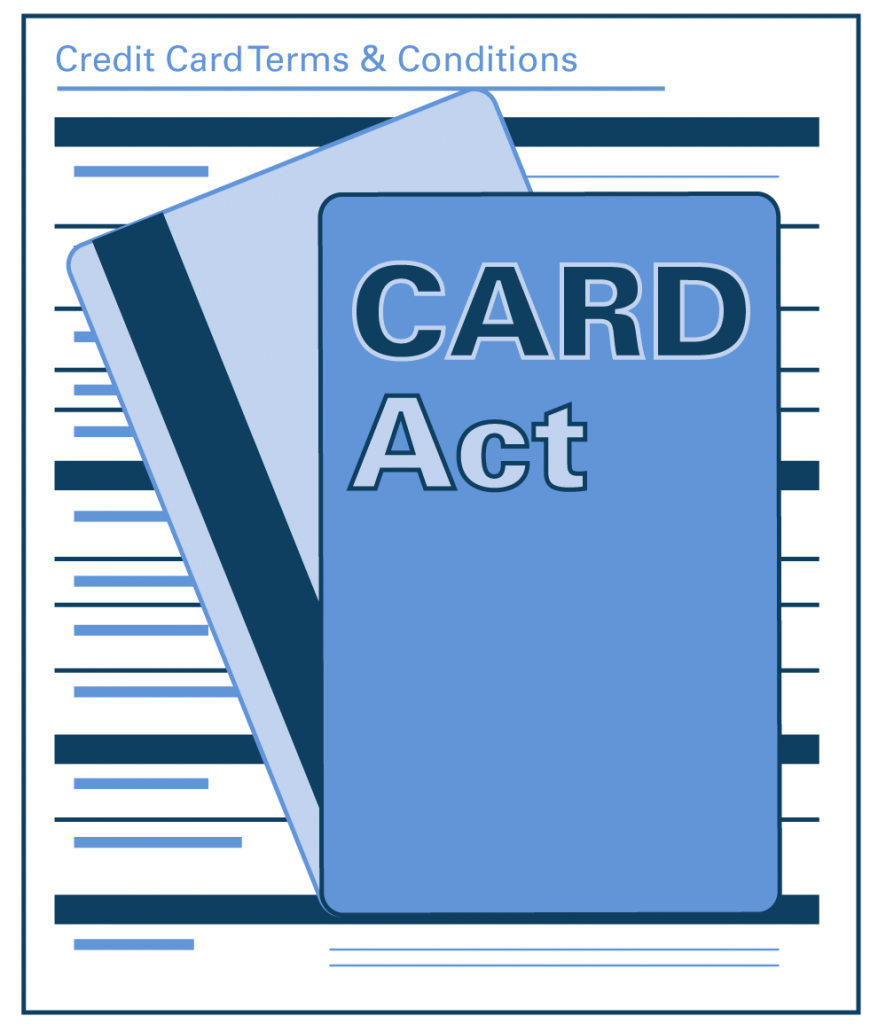 The Credit Card Accountability Responsibility and Disclosure Act of 2009 or Credit CARD Act of 2009 is a federal statute that was passed by Congress and signed into law on May 22, 2009. It is comprehensive credit card reform legislation that aims "…to establish fair and transparent practices relating to the extension of credit under an open end consumer credit plan, and for other purposes."
Here are some of the most important items addressed in the CARD Act:
Card issuers generally are prohibited from increasing the interest rate on an existing balance unless the cardholder has missed two consecutive payments.
Card issuers generally are permitted to increase the interest rate prospectively on new purchases, but must give the consumer 45 days advance notice – during which time the consumer may cancel the account.
Credit card bills must be due on the same date each month and payments received by 5:00 p.m. on the due date must be treated as timely. Card issuers generally cannot charge a late fee unless consumers are given at least 21 days to pay their bill.
Under the Act, late fees and other penalty fees must be "reasonable and proportional" to the violation of the account terms in question. The Federal Reserve Board's implementing rule establishes a "safe harbor" benchmark for "reasonable and proportional" penalty fees, which the Board set at $25 for a first violation and $35 for a second violation within the next six months. Late fees also may not exceed the minimum payment due.
Card issuers are prohibited from charging an over limit fee unless the cardholder expressly opts in to permit the issuer to process over limit transactions. Such opt-ins are revocable at any time by the consumer, and the consumer must be notified of the right to revoke any time an over limit fee is assessed.
Card issuers may not charge more than one over limit fee on any one billing statement.
Over limit fees also are generally subject to the same limits as those applicable to late fees.
Each monthly statement must include how long it will take to pay off the bill and the total cost to the consumer as a result of paying only the minimum amount due.
Each monthly statement must include how much the consumer should pay each month to pay the bill off in three years, the total cost to the consumer in doing so, and the savings compared to paying only the minimum payment.
Regulations issued by the Federal Reserve Board, which took effect along with the CARD Act implementing rules, require each monthly statement to include the total amount of interest charged year to date, and a similar disclosure relating to the total amount of fees.
Help your clients know their rights under the CARD Act; they will thank you for it.
P.S. DisputeSuite provides a variety of solutions for your credit repair business. From engaging custom websites, to dispute processing services, to a robust CRM with automations and portals, DisputeSuite is a One-Stop Shop to making your Credit Repair Business A Success!
Let's chat today to discover the best plan for you: 727-877-6812 or support@disputesuite.comFREE WEEKLY WEBINARS! Register  here to join us weekly to hear industry updates, expert speakers and business tips & tricks!