No two companies are exactly alike. That's why DisputeSuite.com provides the tools to create an experience as unique as you are. Configure your own account statuses, account types, letters, dispute statuses, user privileges and more.
Customize drop-down menus & pick lists
Every single drop down and picklist in DisputeSuite is customizable. This includes credit report statuses, customer statuses, dispute instructions, and more. Can't find the dispute result you're looking for? Add a new one with a few clicks of your mouse. Once you add a value in the reference data it will appear in the drop-down. Never again will you need to "make something fit." If you can't find the drop down option you're looking just add a new one.
Enter your credit repair contract
From the Admin section of DisputeSuite, you can easily copy and paste your existing credit repair contract, CROA disclosure, power of attorney and any other necessary disclosures. With the added tool of electronic signatures to the customer portal, customers can sign your agreement electronically. Also if you have a Spanish version of your agreement you're able to upload that agreement as a separate agreement. This allows you to have both your English and Spanish speaking clients to sign your agreement.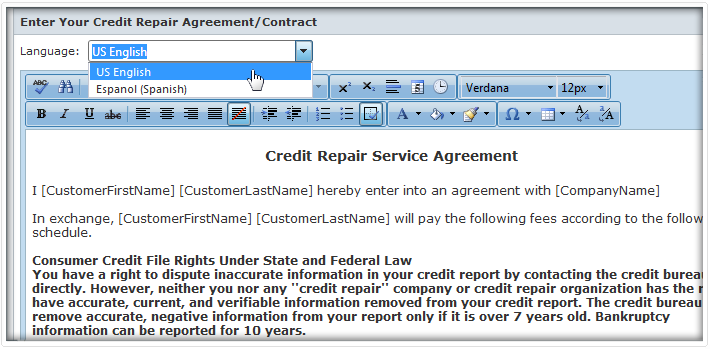 Why worry that your staff has too much access to your sensitive data. Create a new role/permission so your staff only has access to parts of DisputeSuite they need to do their work. Each position in your company can have a designated role, Sales, Processing, Admin, Support, Regional Sales, etc,. Role-based security allows you to limit a user's access to only information, sections, and tools required to do their job. No other credit repair software on the market has role-based security.
The easy to use import wizard allows you to import your entire customer list into DisputeSuite in minutes. DisputeSuite can import directly from an ACT!, Credit Money Machine, Microsoft Outlook, and any program that can save data in CSV (comma separated value). Upon import, you can assign imported records the processor, status, folder, etc,. You can also easily export your entire customer list out of DisputeSuite.
More credit repair client management tools