Generate Dispute Letters Automatically in Seconds!
Automate your dispute letter creation and generate dispute letters in seconds. Point-and-click dispute letter creation allows you to generate customized dispute letters by selecting items directly from the credit reports.
Automate the most time consuming job
Without a doubt, the most time consuming aspect of running a credit repair business is creating dispute letters for customers. If you are like most credit repair businesses, you use Microsoft Word or Google Docs. You are lucky if you get 3 or 4 letters done in 20 minutes. Manual dispute letter creation is a thing of the past. Now you can generate the dispute letters automatically. Just HOW FAST?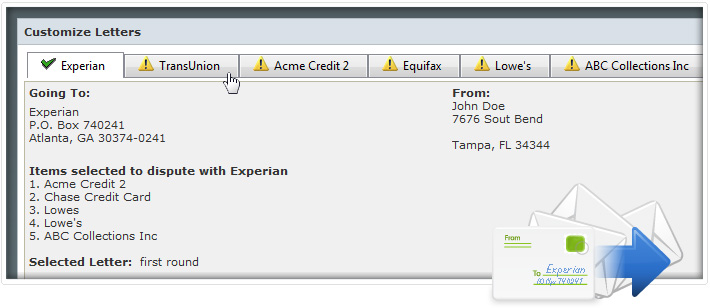 Watch this video
to see for yourself
Watch this video
to see for yourself
Point and click letter creation
With DisputeSuite you will never have to type in your customer's information into dispute letters. "Point-and-click" dispute letter creation allows you to generate customized dispute letters by selecting the items you want to dispute directly from the customer's credit reports.
Since it's "point and click" you can't make input errors. The items you select will automatically insert into the dispute letter templates you select.
Personalize each letter! No sending canned templates!
Typically dispute letter generators found in credit repair software are slow. In addition to the speed issues, the ability to quickly customize the process is usually impossible or very difficult. With DisputeSuite, you can personalize and tailor each letter before saving and printing. That way you can create a custom dispute letter every time for every customer. Customize text, fonts, font color, credit report details and more. All customizations are saved for each letter under the customer's record.

Dispute multiple items in one letter
DisputeSuite allows you to select the items you want to dispute directly from the customer's credit report. For example, if your customer has 10 negative items, you can pick and choose which items should be listed in the letter.
Other credit repair software only allows you to include 1 tradeline at a time in a letter. Ridiculous! DisputeSuite allows you to list multiple items–making it perfect for blanket disputes.
Automatically print I.D. documents with letters
Many times after sending a dispute letter to the credit bureaus (Equifax, Experian, and TransUnion) they will request proof of identity. This proof typically includes a driver's licenses, social security card, and copy of utility bill. Rather than printing IDs up separately and inserting with each letter, you can now print the customers ID's after each letter automatically within DisputeSuite.
Create follow-up letters in seconds!
After you enter in dispute results for a client, you can Dispute Remaining items. It will automatically create a follow-up letter with any remaining items that have not been marked as repaired or deleted. This makes procedure requests and follow-up letters super fast!
For example, let's say you have a letter with 4 disputed items and 2 were deleted and the other 2 were verified. The follow-up system will automatically create a letter listing the 2 items that were verified and leave out the 2 that were deleted.
The PDF bulk printing feature allows you to create one PDF document from multiple dispute letters. Pick and choose which letters to include and generate a single PDF. The PDF can be printed from any printer.
No more printing one letter at a time, you can print hundreds of letters at once. This is also a great feature if you do your printing offsite at a fulfillment or print center.