Experience the Power of On-Demand Software
DisputeSuite.com's application is delivered over the Internet and all you need to do is open your browser, log on and use the application. Since it's on-demand there is no software, hardware, networks or infrastructure to buy. Let DisputeSuite.com handle the hosting, maintenance and upgrades of your application.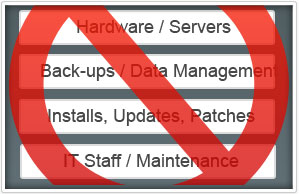 Out with the Old! In with the New
You don't use software for the joys of owning servers, doing backups, updates, patches and maintenance. You buy software to get things done. You want to use the services it provides and, quite frankly, if you could let someone else manage the headaches, all the better. This is why our credit repair software model is so exciting.
You do not have to make large and risky up front investments in software, hardware, implementation services and additional IT staff. This equates to huge savings compared to client/server solutions.
Online Software VS Downloadable Software
In the old days, anyone looking for credit repair software had few options available. The old way of delivering software is through a downloadable format, or delivery of disks to be loaded onto a computer. How does downloadable software compare to web-based software?
Consider each of these items:
The costs of online software is usually far cheaper than downloadable software. With downloadable software, it is very expensive to scale up as you grow. There are costs for the software licenses, computers, ongoing maintain, upgrades, IT support, etc,. If your employees work out of the office you have setup servers, databases, security, remote access, etc. which usually quadruples the costs of of downloadable software. In fact, many downloadable software can cost $20k+ for a small office.
With DisputeSuite online software you do not have to spend time installing or maintaining the servers, network equipment, security products, or other infrastructure hardware and software like you do with downloadable software. You just open your web browsers and start using it! When your business grows all you have to do is add more users! This enables you to achieve significant savings relative to downloadable software. You do not have to make large and risky up front investments in software, hardware, implementation services and additional IT staff. This equates to huge savings compared to downloadable.
With Online credit repair software, you can take advantage of having staff work from home which is a great way to save money on office space. If you need some additional workers because of an influx of business, you can have them work remotely and not have to worry about buying any new equipment and hardware while still being in complete control of what they can and can't do on the software!
A natural concern is security. Opponents of web based credit repair software will talk about security claiming that web-based software is less secure.
Studies have shown that downloadable software is actually much less secure. Studies show that it is a lot easier for a hacker or unhappy employee to break into a local computer in your office than it is to break the supercomputers that house online software. The reason being, we put tremendous resources into our security infrastructure. In fact, our security and protection go far beyond what nearly all of our customers would EVER be able to deploy on their own. DisputeSuite utilizes a financial-grade infrastructure—the same level of security and safety as when you access bank accounts online.
We use proven technologies to ensure ultra-high security. Secure Socket Layer (SSL) technology protects your information using both server authentication and data encryption, ensuring that your data is safe, secure, and available only to registered Users in your organization. Your data will be completely inaccessible to others.
In addition, opponents argue that web-bases software makes it difficult access to your data. With disputesuite.com users have the ability to download and backup their data as often as they want. The data is owned by the credit repair company.
Don't Fear Local Hard Drive failures
Research shows over 100,000 hard drives crash per week! What would happen to your data if your hard drive crashed? With downloadable software, if your hard drive goes so does your data. With DisputeSuite, you data is backed up and duplicated. Your data is clone over multiple servers so If one server fails there is an immediate backup and you would never even know anything happened. With online software, if your local computer ever goes down you never have to worry about the loss of data. All you have to do is find an internet connection and you're back in business while you worry about your local computers later.
High Levels of User Adoption
We are constantly getting praise for how easy to use DisputeSuite is. We put tremendous resources into usability. In fact, we have a full time user interface designer. DisputeSuite is easy to use and intuitive. The service contains many tools and features recognizable to users of popular website's such as Amazon, eBay and Yahoo! It has a more familiar interface than typical software. In a recent usability study, DisputeSuite outranked our main competitor with a positive user rating of 95%. Translation? You and your staff spend less time trying to navigate the software and more time getting actual work done.
Some people may say online software is slow. In reality is SaaS ( Software as a service), which is online software, has been around a long time. Major corporations have been using online software for decades. Now that online software is finally available for the credit repair industry, it's time you can take advantage of the same technology all of the major company's use, regardless of the size of your company. Another great part of Online Credit Repair software is the fact that it is tested to handle millions of records and huge volume, something your local computers or servers in your office cannot do.
Instant updates to our latest releases
Downloadable software delivers major releases every 6-18 months, after which you have to pay for the new version and upgrade each computer you have. With online software you get instant updates and they are FREE. We deliver major releases every 40-60 days, giving our software new functionality.
These updates and improvements are usually applied without service interruption and are instantly available. Our customers are never stuck in a version of outdated software. We make adjustments and improvements almost daily which are immediately available to you.
If you are like most professionals, you and your staff work from home, the office, the coffee shop, etc. Installing software on each computer for each person is impossible. That's why web-based credit repair software is so powerful. All you need is an internet connection and you can access DisputeSuite from anywhere in the world.