Customized Letter Editor & BONUS Letter Library
Keep all your dispute letter templates in a central database. Create your own letters or access our library of hundreds of letters. Sophisticated typography tools allow you to create your own credit repair letter templates. You can also download letters from our library of hundreds of Attorney written credit repair letters that come FREE with all packages.
The built-in letter editor looks and functions just like familiar Microsoft Word. You can easily do all the basics, including custom font types and colors, paragraph styling, tables, images and more. There's nothing to download or install. Once you are finished creating your letter, you can seamlessly save it to your letter library.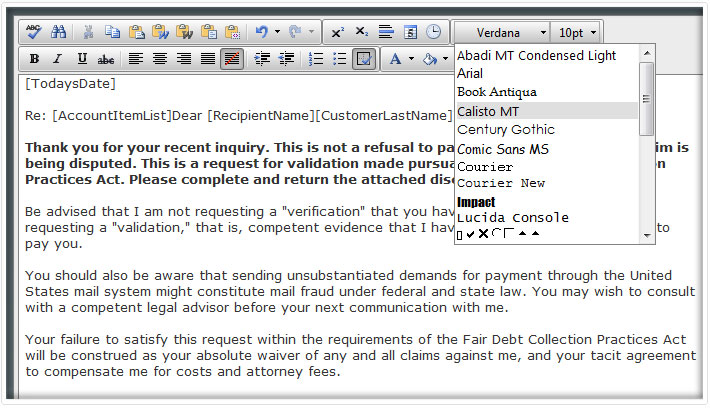 Access tons of credit dispute letters
Access our library of proven dispute letters. Letters are perfect for disputing late payments, judgments, civil claims, charge-offs, foreclosures, liens, repossessions, bankruptcies, accounts in dispute, settlements accepted, collections and more.
Use of all or some of these proven credit repair letter templates is unlimited. You can quickly move letters from the available templates to your private and company shared templates with ease.
Personalize each letter, No sending canned templates!
With DisputeSuite, you can personalize and tailor each letter before saving and printing. That way you can create a custom dispute letter every time for every customer. Customize text, fonts, font color, credit report details and more. All customizations are saved for each letter under the customer's record.

Store all your letters in a central library
You no longer have to search through a mess of letters on your computer; instead, all your letters are located in one central area. Easily find your letters by organizing them into categories, such as collection agency disputes, credit bureau disputes, or however you want. An easy to read list allows you to browse through the library to find dispute letters fast. Online storage and backups mean you do not need to fear local hard drive failures or corruptions.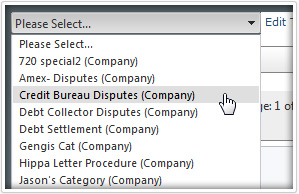 When you have hundreds of dispute letters, keeping track of them all becomes difficult. Not with DisputeSuite. Create categories like, medical collection dispute letters, collection dispute letters, derogatory account dispute letters, public records dispute letters, technical error dispute letters, and more. You can create an unlimited number of categories.You can also specify the permissions for each category.