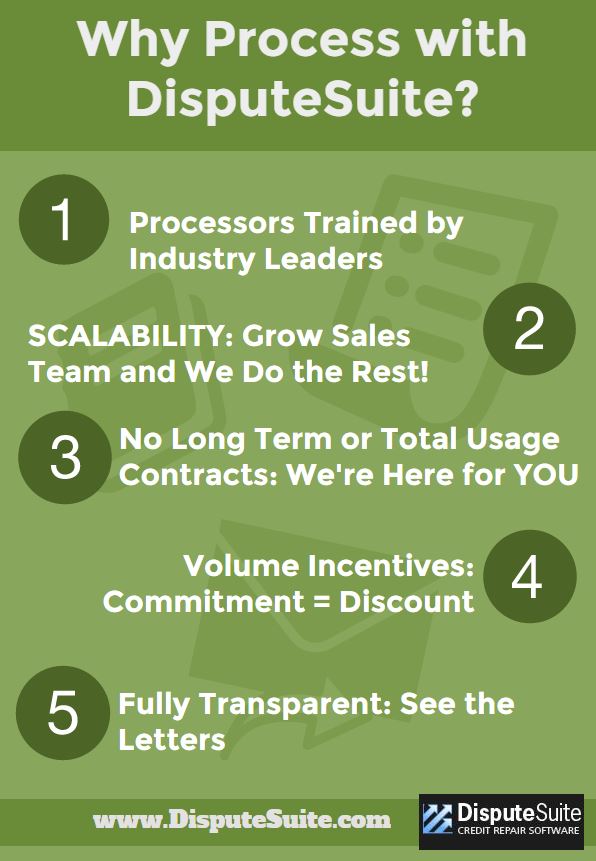 Owning your own business is often a laborious and life-consuming endeavor. Every industry requires the same thing: absolute dedication and market evolution. Even with the best staff and most efficient work practices, managing your time and tasks can be labor-intensive and time-consuming. Many successful companies outsource to various management groups in order to effectively utilize time and resources. In the credit repair industry, the most common practice is to outsource for credit monitoring and processing.
If you want to keep up with other businesses in the industry, you should analyze the cost and time benefits of processing with a company like DisputeSuite. Here are three reasons to consider our process for your outsourced processing needs:
It's cost effective and transparent.
Most companies who utilize outsourcing save money. You are delegating a timely task to professionals whose only job is to process quickly and accurately. In addition to making good financial sense, DisputeSuite processing is transparent: they function like an invisible back-office team that helps your business scale and develop. You can follow the dispute process, and witness how these methods work. You and your customers have access to dispute letters. One of the best aspects of credit repair is getting to watch as credit scores rise and credit reports clarified. DisputeSuite makes this easy.
It's easy.
Unlike other processing companies, it is EASY to process with DisputeSuite. We offer online billing management: simply login to see all clients worked on, and with a single click you can quickly send a client to our team to do the work for you. Not only is the process uncomplicated, but the customer service team is consistently lauded for its timeliness and efficiency. 100% of the process is fulfilled in the United States. You'll never have to worry about reaching outsourced employees in a different country, and you'll never have to wait an unreasonable amount of time to get in contact with the customer service team. Also, you can customize the service you need and only use DisputeSuite's team when you need to. You may seasonally need additional assistance in getting all of your work accomplished. Don't worry about long term or total use contracts; use the service when you need it.
It's best the option for growing businesses.
When you first established your business, you probably managed and controlled a lot of different tasks. As businesses develop and evolve, roles become solidified and priorities change. In order to compete with other credit repair companies, it is necessary to build and maintain marketing and sales strategies. By delegating workloads to seasoned, established processing firms, you open up your time, resources, and creativity for your company's expansion. DisputeSuite's processors are personally trained by industry leaders. They operate under the best methods and tactics in the field so you can focus on increasing your sales team, while resting easy knowing that a team of trained experts is working to ensure the best results and quality of your clients' letters.
Overall, if you find yourself wasting time and energy on workloads that could be wisely outsourced, it's best to evaluate outsourcing options. Contact DisputeSuite today and speak with industry experts about all of your processing and credit repair needs: Call 727-877-6812 or visit www.DisputeSuite.com.