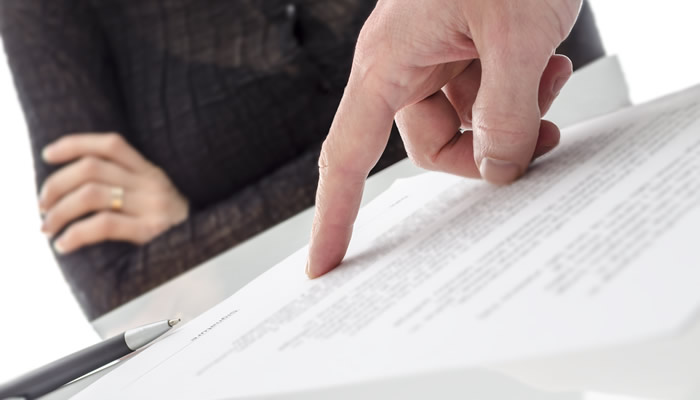 Make sure you have a contract in place when offering credit repair services. A contract is very important because CROA specifically states you must have a contract in place before you do any work for a consumer. The definition of what a service is must be detailed inside your contract.
Inside your contract, it should detail what the service is, a description of the services to be performed. If you have any guarantee, or if you offer any refunds, it should be clearly noted in there.
Request a Power of Attorney, if you're going to be talking to any creditors, that should also be a part of your welcoming package contract.
A copy of the FTC's consumer file rights, and of course multiple cancellation notices. Now, by law you have to have two cancellation notices, and that be the only thing that's on a page. In mortgage lending law, actually under the Truth in Lending Act, for a mortgage loan and several other types of consumer lending, the rescission period starts when the contract is signed, or when the two copies of Notice of Rescission are given to the consumer. Rescission are given to the consumer.
Keep in mind that two copies must be given to the consumer upon their execution of your contract. If you are using a digital signature, any type of electronic signature component, be sure that within the electronic contract that you use actually has two copies, back to back, or next to each other, in the document.
And when the client goes to print the entire agreement, as they should with any electronic signature, agreement should automatically trigger them to print or give them the printing option conspicuously. That way, there are two consecutive notices with the option for the client to rescind. Again, peace of mind is good business procedure.
It's not enough giving the client one and telling them to make a copy, you physically have to give the client two copies. Like it says in the electronic environment, as long as the printed version is exactly as you would hand them two copies. That is okay also. I suggest you have an attorney review any agreement that you put in place, any type of contract.
There are many places on the internet to get contracts.  If you go to www.howtostartacreditrepairbusiness.com, you can certainly see some resources there to get a copy of a contract. DisputeSuite also has a sample credit repair contract that you can purchase as well. But as always, you must review it with an attorney to ensure it has all the needed information and is compliant.
Keep in mind that any contract that you get offline would most likely not be applicable to exactly to what you're doing, exactly the service that you're providing.  So, in order to be completely compliant, it's always best to have an attorney review your contract, and match it to your specific state law, and match it to any special services that you'll be offering.  This is an extra expense that pays for itself in the long run.
P.S. DisputeSuite provides a variety of solutions for your credit repair business. From engaging custom websites, to dispute processing services, to a robust CRM with automations and portals, DisputeSuite is a One-Stop Shop to making your Credit Repair Business A Success!
Let's chat today to discover the best plan for you: 727-877-6812 or support@disputesuite.com