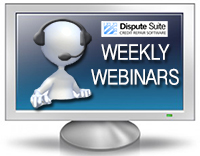 DisputeSuite's Weekly Webinar (9/16/2015) 
Be sure to check out this week's DisputeSuite Weekly Webinar, to learn how to Pave The Way To Lifelong Success with Effective Communication. Rob Ellerman expresses that being able to communicate clearly, decreases confusion and increases results. Communication is the Cornerstone to having internal efficient operations, enhancing customer service, and maintaining a steady cash flow.
P.S.   DisputeSuite provides a variety of solutions for your credit repair business. From engaging custom websites, to dispute processing services, to a robust CRM with automations and portals, DisputeSuite is a One-Stop Shop to making your Credit Repair Business A Success! 

Let's chat today to discover the best plan for you: 
727-877-6812 or support@disputesuite.com
FREE WEEKLY WEBINARS! Register  here to join us weekly to hear industry updates, expert speakers and business tips & tricks!