Goals are a great motivation to get going. They enable you to build a specific plan toward achieving your dreams. This holds especially true for entrepreneurs. The only issue is that not many of us are good when it comes setting our goals. But don't worry, we are here with an easy 5 step SMART plan that will help you on your way to success.
The Advantage Of Goal Setting
There are times when each and every one of us goes through a period where nothing much happens. We seem to hit a plateau. No matter how hard we try, we can't seem to shake off the rut. People who run their own businesses go through this period as well. Goal setting can help us, in fact galvanize us, and motivate us to look forward and reach higher.
The SMART Plan To Set Your Goals
Setting goals shouldn't be a chore! It should be a fun, interesting exercise; more importantly, it will push you towards business success!  Without further ado, here are 5 ways that entrepreneurs can set reasonable goals for themselves without breaking a sweat, the SMART way: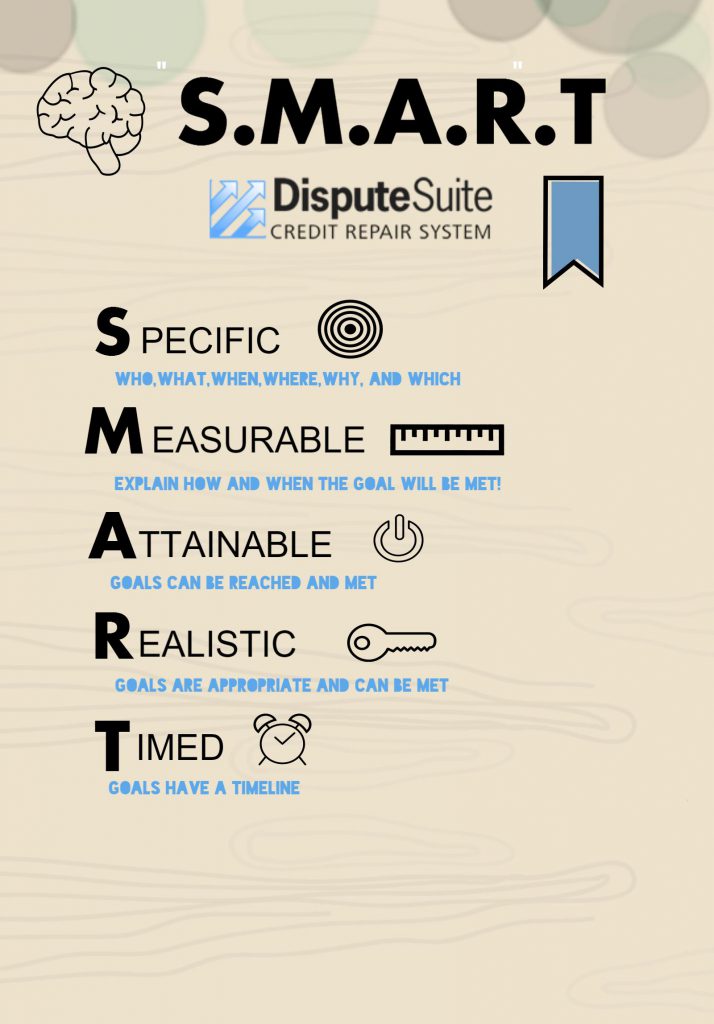 S is for Specific
Try and get as detailed as you can with this aspect of goal setting. Don't leave anything to chance. The more concrete your goal, the more chances that you will attain it. For instance, 'I want to increase my revenue by 'A' amount within the next month.' This where having a business plan can help. Plan your short term goals in accordance with the long-term plan. Learning the Credit Repair Organization Act (CROA) will help you set specific financial goals.
M is for Measurable
It's always best to set goals that can be measured. When you can measure your progress, you will know exactly where you stand and you'll be motivated to keep going further. For instance, 'I have been able to increase my customer base by 'X' number from the previous month.' Software management tools, such as the DisputeSuite software, are great accessories to help you measure your plan's success.

A is for Attainable
Is this goal reasonably attainable?  That is a question that needs to be looked at seriously. Rome wasn't built in a day, so don't expect to build a Credit Repair Business Empire overnight. It is all good to set a high target, but not achieving it may actually prove counterproductive. Instead of trying to increase your sales output by 95% in the short term, try and aim for 10% and create additional, stepping stone goals to reach your desired 95% range in an attainable amount of time. 

R is for Relevant 
Know your business and industry and set your goals accordingly. Give yourself (and your team) a reason to network with more people or to build a company website, instead of just doing it because everyone else is. Having a firm understanding of "Why" your goal is important  will ultimately help  keep your eye on the prize.
T is for Time-Sensitive
Always set your short term  and long term goals within a reasonable timeline. If you want to increase your revenue, or boost your sales, set a date for them. You (and your team) will be more focused on achieving them. Not many business owners enjoy falling past a deadline. The same is true with goals. Giving the goal a deadline and sticking to it, is the best way to ensure it's achieved. 
Are you ready to start setting goals for the new year? But don't know where to start? DisputeSuite Business Start Up Plan Kit, will give you the framework needed to start taking action.The Business Start Up Plan Kit is a step-by-step guide to creating a business plan for your credit repair business. This includes a 30-page business plan outline, financial tools, and more!
P.S. DisputeSuite provides a variety of solutions for your credit repair business. From engaging custom websites, to dispute processing services, to a robust CRM with automations and portals, DisputeSuite is a One-Stop Shop to making your Credit Repair Business A Success! Let's chat today to discover the best plan for you: 727-877-6812 or support@disputesuite.com
FREE WEEKLY WEBINARS! Register  here to join us weekly to hear industry updates, expert speakers and business tips & tricks!