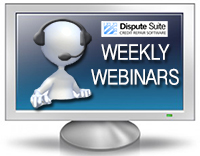 DisputeSuite's Weekly Webinar (9/30/2015)  
Be sure to check out this week's DisputeSuite Weekly Webinar, to learn Simple Successful Practices For Closing Leads! Rob Ellerman and Marion Timpson provide Tips & Tricks that are Effective and Personable.
Do You Need More Qualified Leads?

Click Here to Order FHA Mortgage Leads. These leads are qualified poor or fair credit leads that want a home.