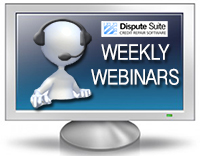 DisputeSuite's Weekly Webinar (11/25/2015)
Be sure to check out this week's DisputeSuite Weekly Webinar, to learn The 3-Step Formula For Doubling Your Revenue, Per Email Address, From Paid Advertising, In Just 30 Days! From driving traffic to sales funnels to data metrics, learn how you can boost your profitability with these simple steps.
 Boost your profit by using strategies to combat the 3 bottlenecks to marketing, and learn proven steps to having a successful sales funnel.